The Bold and the Beautiful Spoilers: Brooke Fears Ridge Will Cheat With Taylor – Is She Right?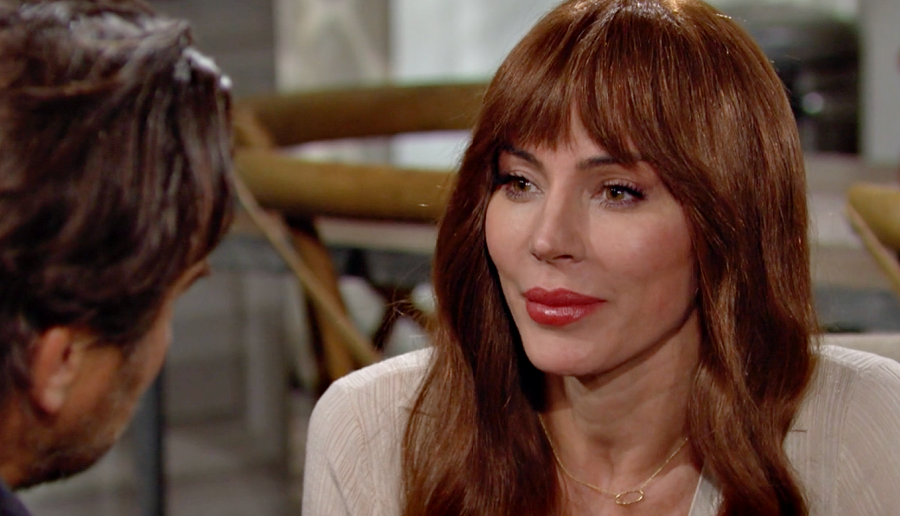 The Bold and the Beautiful spoilers document that Brooke Logan Forrester (Katherine Kelly Lang) is bothered by Taylor Hayes' (Krista Allen) return to Los Angeles, California. Viewers learned Brooke's specific concerns when she was ranting to Hope Spencer (Annika Noelle) and her father, Deacon Sharpe (Sean Kanan).
Ridge Forrester (Thorsten Kaye) is choosing to recall the fond times he and Taylor spent. The three children they had and their grandchildren project positively. That is the mental trick Ridge has embraced.
By going to the warmth and comfort that a romanticized yesterday offers, Ridge temporarily distracts himself from the problems he is exacerbating.
Bold And The Beautiful Spoilers – Brooke Logan Forrester Needs Perspective
Ridge and Taylor were unable to make two marriages work. That is tough but understandable.
Sometimes two people who love each other reconcile for all the right reasons but can not make a reboot work. So that renewed season gets canceled too.
Imagine if one were to double the number of times Tridge was married to four and then multiply that by two. What would Brooke be saying about Ridge's relationship with Taylor if they had been married an incredible eight times as Bridge has been?
Bold And The Beautiful Spoilers – Bridge Is In Trouble, But That Is Not News
Bridge is not in trouble, according to Brooke. This famous couple is experiencing difficulty. Okay.
History informs devoted viewers that Bridge could collapse or is already doing that. Tridge stands a good chance of rebounding. However, it would be premature to count Brooke out or conclude that Ridge will return to Taylor.
It is not new that Bridge is in trouble, despite Brooke's comments on the matter. Instead, viewers are waiting to see if Taylor and Deacon's patience results in a payoff. Brooke and Ridge could mutually decide to part ways, while Deacon and Taylor serve as good listeners.
Bold And The Beautiful Spoilers – Ridge Forrester Is Impulsive
The difference between Ridge agreeing to divorce Brooke while drunk and then impulsing into marrying Shauna Fulton (Denise Richards) in the recent past, in what proved to be a false union, and his look to Taylor is stark. Allen's character is the other great love of Ridge's life. Shauna is someone who momentarily captured his interest.
The Deacon angle, combined with Taylor's magnetic charisma, could enable Ridge to jump ship. Brooke might not be able to stop him, no matter her pronouncements or maybe, because of them.
Do you think Brooke's fears are well-grounded – will Ridge cheat with Taylor?
This site is a leading source for everything linked to The Bold and the Beautiful. Check back to Soap Spoiler regularly for B&B spoilers and news!