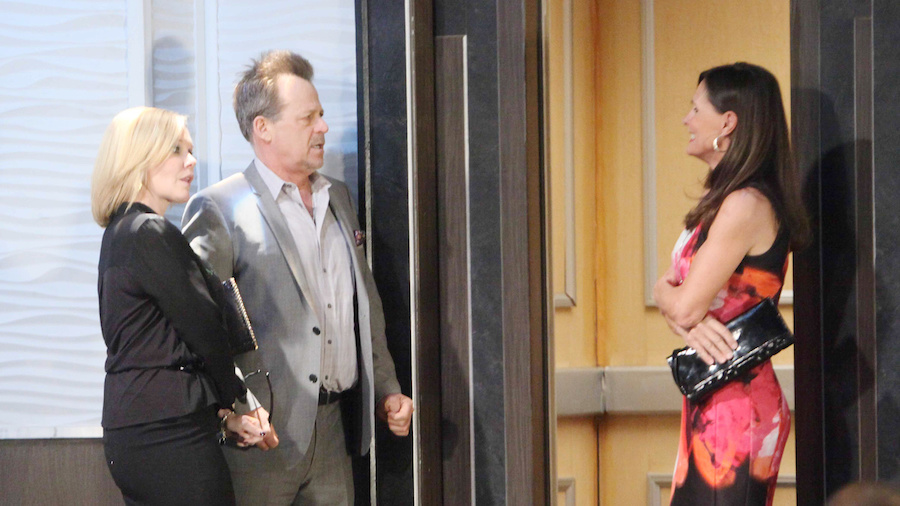 General Hospital news says that it shouldn't come as a surprise to anyone that someone like Kin Shriner (Scott Baldwin) would have a hard time picking his favorite leading lady on the soap, seeing how he works with so many beautiful and talented actresses on the show. Here's what he has to say!
General Hospital Spoilers: Kin Shriner Opens Up About His Leading Ladies
Speaking to Soaps in Depth in a new interview, when Kin was asked who his favorite leading lady on General Hospital was, he couldn't come up with an answer and that's mostly because he's worked with so many! 
Kin put it this way, "When you want to have high jinks, fun, camp, and comedy, there's nobody better than Lynn Herring (Lucy). If you want to go back in history, there's Jackie [Zeman, Bobbie] and Genie [Francis, Laura] — and I always loved working with Robin Mattson (ex-Heather) back in the day."
While things certainly did heat up between Kin and his romantic conquests during his many years on General Hospital, he says that it's Ava Jerome (Maura West) who might have had the biggest impact on his character. Speaking about his time with Ava, both on and off screen, he explained, "When I look at my script and see that I've got a scene with Ava Jerome, I know this is going to be fun. Maura West gets a chance to show some of her comedic skills, and I certainly enjoy those scenes."
General Hospital News: Kin Loves His GH Friendships
Kin adds that Ava isn't the only General Hospital actress that he's had the honor of getting to know off-screen. He says that working with his co-stars sometimes feels like getting together with some of your old college friends. He added, "Because we've still been intertwined throughout the years on General Hospital, we've remained close. I speak to Lynn three times a week, and I still speak to Jackie all the time. I speak with Genie when I'm at the studio, and I hang out with my new friends, too."
In the meantime, let us know what you think by leaving us a line with your thoughts in our comments section below. General Hospital airs weekdays on the ABC network. Check your local listings for times. 
Be sure to catch up with everything on GH right now. Come back here often for General Hospital spoilers, news and updates.