When Calls the Heart Kevin McGarry Defends Erin Krakow from Upset Fan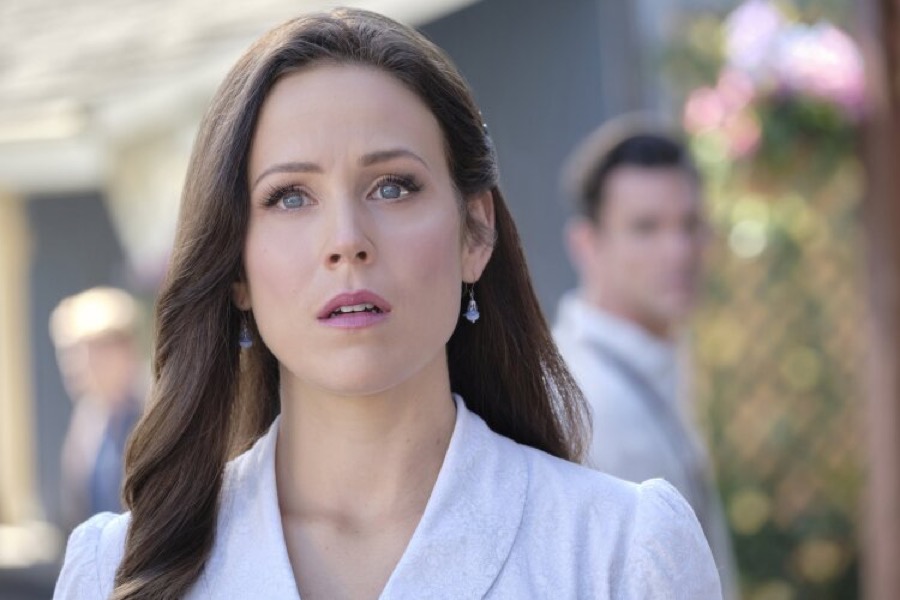 When Calls the Heart spoilers and updates tease Kevin McGarry defended his co-star Erin Krakow when an upset fan called the latter out for her comment on McGarry's Instagram post.
McGarry Posts Nathan's Boots on Social Media
Fans know that filming for When Calls the Heart Season 9 has wrapped up. As the show wrapped filming the new season, McGarry, who's not that active on social media, posted a photo of his character's well-worn boots.
"Another few miles walked in Nathan's shoes. Maybe ridden. Season 9 wrapped," he captioned the post.
Krakow commented on his post and wrote, "👁🌊🐴💩," which fans interpreted as "I see horse poop." Unfortunately, her comment didn't sit well with one fan.
The upset fan called the actress out and said, "that was kinda rude Erin."
Erin Krakow Handles Upset Fan with Grace
Fortunately, the actress knows how to handle sensitive fans. She just replied, "I mean…the aroma is what's rude. Not so easy to focus while a fresh load of 🐴💩 is hitting the ground beside your scene partner. 😂"
Even though Krakow already handled it with grace, McGarry stepped up and defended her anyway. He wrote, "@bbnfan_03 @erinkrakow is a 💎- and not wrong about the 🐴💩."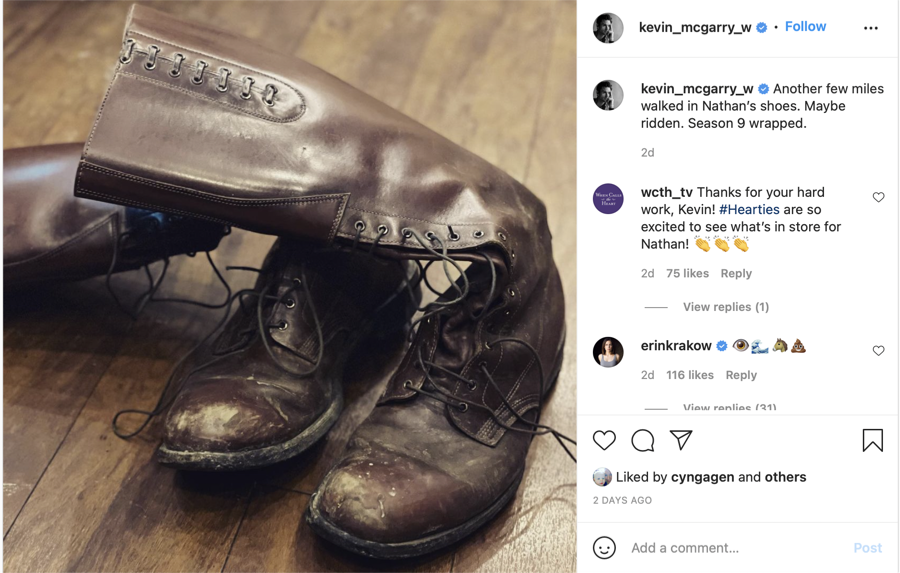 Fans Continue Having Fun
Meanwhile, the other fans didn't let one comment ruin their mood. They continued having fun in the comments. A lot of them also sent their well wishes to the actor, to which he replied, "Thanks for all the kind words, everyone."
One of his new followers said that they've never heard of him before season 8 but now they're a Lifetime fan. They adored McGarry's character and loved the man portraying it as well.
Jack Wagner Celebrates End of Filming with a Song
Aside from McGarry, other cast members also posted about the conclusion of filming WCTH. Jack Wagner, who plays Billy Avery on the show, shared a song on social media to celebrate the end of filming for season 9.
Wagner posted a video of him, McGarry, and Chris McNally singing a short song to celebrate this milestone.
"Unnnnrehearsed. Aaaand That's a wrap to S9 of [When Calls the Heart]," he wrote in the caption.
Everyone on set, both the cast and crew are tight-lipped when it comes to what to expect in the upcoming season. When Calls the Heart Season 9 will air sometime in 2022 on Hallmark Channel.
Be sure to catch up on everything happening with When Calls the Heart right now. Come back here often for When Calls the Heart spoilers, news, and updates.