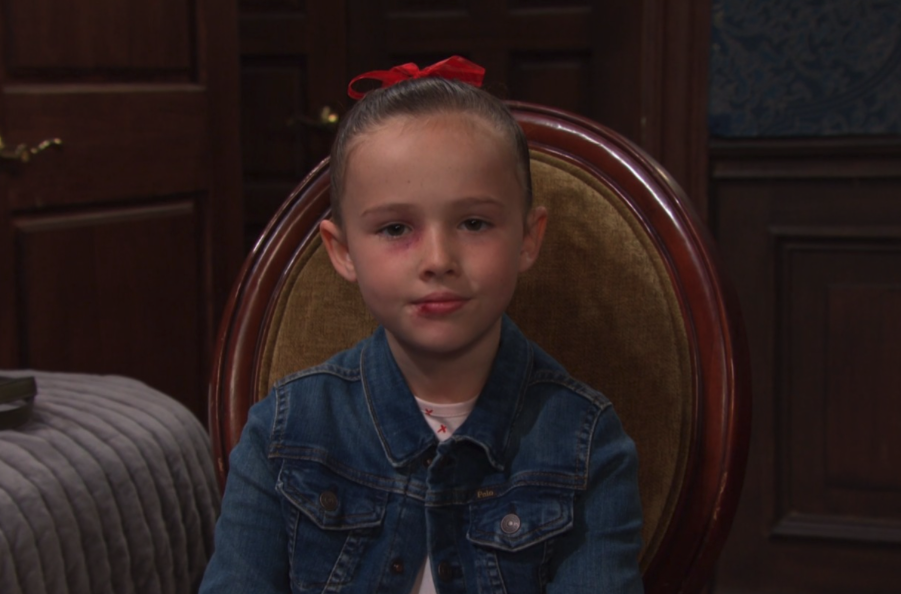 Days of Our Lives spoilers say that fans certainly are not happy with the latest storyline. That's because it seems like little Rachel Black might be framing her mother Kristen DiMera to look like she was allegedly abused by her. Apparently, Brady Black is in on the scheme as he wants to gain full custody of the little girl. However, Days of Our Lives fans are seeing red over this entire ordeal. Here's what you need to know.
Days of Our Lives Fans Angered Over 'Cringey' Child Abuse Storyline
As many Days of Our Lives fans know, Kristen currently has full custody of the little girl. But that might soon change as it looks like Brady might be using his son Tate to help him get custody of Rachel. The little girl was spotted with a black eye and cut lip. When she was asked what had happened, she said her mother had abused her.
Days of Our Lives fans have made it pretty clear that they think this storyline is not of good taste, as it has a child actor lying about child abuse allegations that have been made against her mother. Some have even commented with, "Now we are using child abuse allegations to help get Brady his daughter back sooooo cringy what is wrong with Days of Our Lives," along with, "Thing is, we have seen Kristen be emotionally abusive/manipulative to Rachel – exposing that reality would be a good way to return custody to Brady and get revenge on Kristen rather than further manipulating this poor little girl."
Days of Our Lives Spoilers: Does The Child Abuse Storyline Go Too Far?
Another Days of Our Lives critic wrote, "This is really bad!! The young actress who plays Rachel is really excellent but I don't think this is a very good idea. The writers have gone too far and it's making me want to tune out rather than tune it."
So far the producers of Days of Our Lives have made no comments about the controversial subject matter.
Watch this space as we have a feeling there is more to come. It goes without saying that Days of Our Lives fans will have to tune in for all of the action. In the meantime, let us know what you think by leaving us a line with your thoughts in our comments section below. Days of Our Lives airs weekdays on the Peacock network. Check your local listings for times.
Be sure to catch up with everything on DOOL right now. Come back here often for Days of Our Lives spoilers, news and updates.