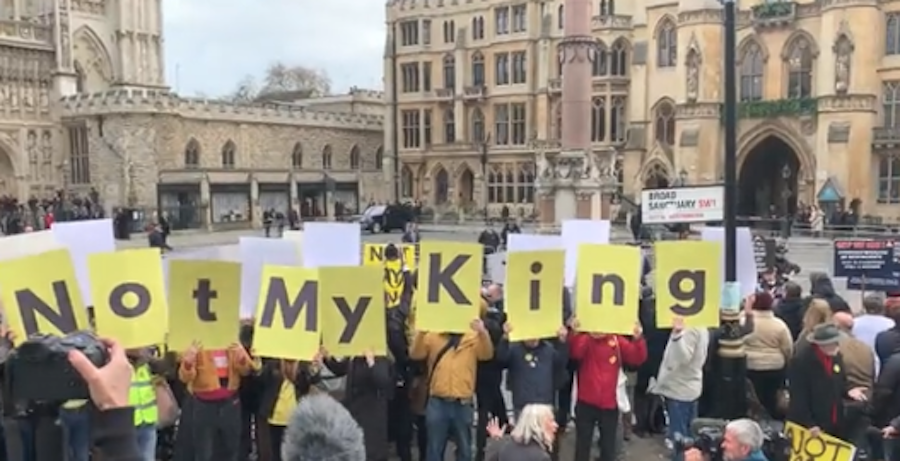 Royal Family News says that the first six months of King Charles' reign as the King of England hasn't been very easy for him. He's been marred by protests, eggs being thrown at him, a Netflix docuseries that makes the monarchy look racist and backwards and of course, Prince Harry's tell-all book, Spare. To make matters worse, #NotMyKing seems to be trending on social media on almost a daily basis, with a lot of anti-monarchists making their thoughts on the matter pretty clear: they don't want to have to spend another tax dollar funding the royal family's lavish lifestyle. Here's what you need to know.
Royal Family News: King Charles Humiliated By 'Not My King' Protests
According to the latest reports, protesters held signs and shouted "not my king" at Westminster Abbey this week ahead of the royal family's arrival for their annual Commonwealth Day service. It was certainly loud enough for King Charles to hear it and most certainly the nearby British media who were there with their cameras rolling. For King Charles, this is definitely something to be embarrassed about as the royals depend on good media coverage and popularity for their survival.
Of course, many royal fans and critics alike sure have had a lot to say about the matter on social media. Some comments have included, "It's about time someone does something about the monarchy. They have become completely unnecessary in modern times. Let us face it as most of us live in fear of the next bill, this lot expect us to clap with admiration a group with castles, palaces, mansions 'cottages' and almost unlimited funds," along with, "We really seriously need to think about abolishing the monarchy. Let this system of colonialism die with Queen Elizabeth. Change without improvement is just a lateral move, making things different but not better."
Royal Family News: What's Next For King Charles?
Another critic wrote, "Let's face it: £650 million inheritance, not a penny in tax, we are paying for the ridiculous coronation and we fund their lifestyle. It's outdated and I won't be bowing and scrapping to a man who gets his first job in his 70s."
Tell us celebrity gossip fans, how do you feel about this story? Contribute to the buzz by dropping us a line with your thoughts in our comments section below. Also, come back here for all the latest news about your favorite Hollywood and reality television stars right here.