General Hospital Spoilers UPDATE Thursday, February 9: Job Offers, Compassionate Child, Sweet Surprise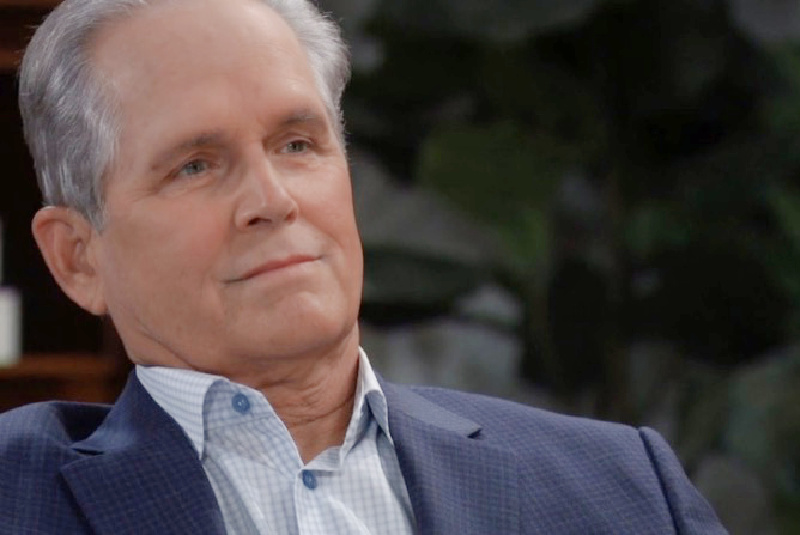 General Hospital spoilers and updates for Thursday, February 9 tease job offers, a compassionate child, and a sweet surprise. Gregory Chase (Gregory Harrison) considers a job offer, Donna Corinthos (Scarlett Spears) shows compassion, and Sonny Corinthos (Maurice Benard) has a sweet surprise.
General Hospital Spoilers: Bad News?
In Willow Tait's (Katelyn MacMullen) room at GH, Michael Corinthos (Chad Duell) looks grim and nervous while she bravely tells doctors whatever it is, she can handle it. Austin Gatlin-Holt (Roger Howarth) will deliver medical news that he had asked them to wait for until Dr. Terry Randolph (Cassandra James) arrived. That means it's about Willow's leukemia and the stem cell transplant from Amelia Grace Tait-Corinthos' (Owen and Nathan Ford) cord blood.
It sounds like from the serious look on Austin's face that there is a setback with Willow's treatment. Perhaps her hemorrhage during the birth and her heart stopping caused a problem with moving forward with the transplant.
GH Spoilers: Job Offer
At The Invader, Alexis Davis (Nancy Lee Grahn) and Gregory continue to talk about the job offer she just gave him. He'll consider it, but apparently has some misgivings. She asks him if she'd be offering this job to him if "that" was true. They'd talked about him no longer teaching previously, perhaps he thinks he's too old to start over with a new career? Many people, some very famous, have started new careers past fifty-the artist Grandma Moses for one. She started her art career at seventy-eight.
General Hospital Spoilers: Elizabeth Baldwin Gives An Update
Elsewhere, Elizabeth Baldwin (Rebecca Herbst) gives an update as she tells Hamilton Finn (Michael Easton) she's decided to turn herself into the police. She's already gotten her lawyer lined up, putting her trust in Scott Baldwin (Kin Shriner) who was shocked to say the least when she told him she was in trouble. Alexis had recommended anyone but Scott for Finn's friend to go to when he asked hypothetical advice.
But Scott is Elizabeth's former father in law, having been her late husband Franco Baldwin's (Roger Howarth) father. Elizabeth trusts him implicitly to do whatever is in her best interests.
GH Spoilers: Liesl Obrecht Takes Matters Into Her Own Hands
Elsewhere, Scott's lady friend Liesl Obrecht (Kathleen Gati) is taking matters into her own hands and Finn finds himself roped into helping her. She tells a reluctant looking Finn that he'll be a valuable ally in her plan – whatever that is. She had previously talked to Nina Reeves (Cynthia Watros) about finding out what Carly Spencer (Laura Wright) is hiding, that they could get her in trouble for. Finn, naturally is confused as to what Liesl thinks he can help her with.
General Hospital Spoilers: Ava Jerome Tries To Problem-Solve
At Wyndemere, Ava Jerome (Maura West) tries to problem-solve as she talks about Nikolas Cassadine (Adam Huss) and his crimes, and who'll pay for them now that she killed him. It's hard to say who she might be telling that "you, and only you, will pay for his crimes! The only other person she could be talking to might be Austin, who may have come there from the hospital.
In that case, she might be talking about Mason Gatlin (Nathanyael Grey) and his crimes-what happened to him that night? Did Austin take him out when Ava took out Nikolas, is that why he's so willing to help with a coverup?
GH Spoilers: Compassionate Child
It's obvious Donna is worried about her mommy as she asks Carly what's wrong. Carly kneels down and looks in her eyes as she appears to have some tears in her own. Carly most likely has heard about Willow's apparent setback in her treatment, having thought the stem cell transplant would be the answer that made the end to the nightmare. It seems that it must be a serious setback indeed, if Carly is crying in public. Donna tries to comfort her crying mommy.
General Hospital Spoilers: Sweet Surprise
Elsewhere, Sonny grins as Nina asks him what he's thinking, and he tells her "you'll see". Perhaps when he was talking to Carly previously about the new baby he managed to angle some time holding their new grandchild for her and him.  She might even get a visit with Wiley Corinthos (Viron Weaver) if she's lucky, but she'll be satisfied for now to hold baby Amelia.
Sonny seems to have a mischievous look in his eye as he teases her about the sweet surprise. Obviously, they don't know about the serious setback in Willow's leukemia treatment.
Be sure to catch up on everything happening with GH right now. Come back here often for General Hospital spoilers, news, and updates.