The Bold And The Beautiful Spoilers: Hope Takes A Stand, Brooke Defends Taylor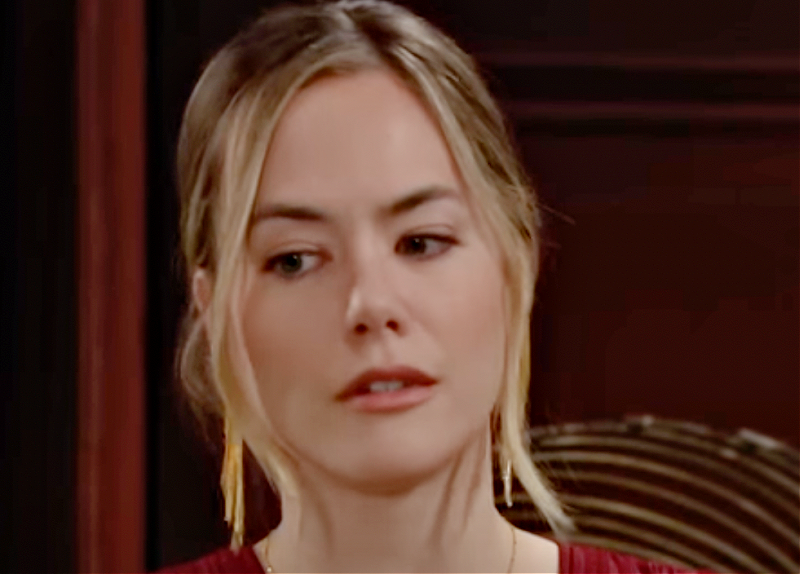 The Bold And The Beautiful spoilers indicate that Hope Spencer (Annika Noelle) will take a stand for her family that Thomas Forrester (Matthew Atkinson) never saw coming. Brooke Logan (Katherine Kelly Lang) continues to defend Taylor Hayes (Krista Allen) to Katie Logan (Heather Tom).
Hope Spencer Stands Up For Her Family
The Bold and The Beautiful spoilers reveal that Thomas is a good designer and he knows it. Unfortunately, Thomas' cocky attitude rubs Hope the wrong way this week. Hope's line is not pulling in the rave reviews she got when Thomas was her lead designer. However, Hope doesn't miss Thomas enough to forget everything he did to get himself fired.
Hope is going to make sure that Thomas knows that he did wrong and stays in the bed he made for himself. Hope is not the only one who voted him out at Forrester Creations. Thomas's family including his father, sister, and grandfather did as well. Hope is not ready to accept Thomas' apology because she doesn't buy it at all.
B&B Spoilers: Hope Spencer Is Not Happy With Thomas Forrester
Hope has to co-parent with Thomas but the way he has acted recently, she doesn't like that. However, Hope does not need to see him at work every day and isn't about to go to bat for him with anyone at Forrester. Hope tried this one but Steffy Forrester (Jacqueline MacInnes Wood) talked her down. Thomas may retaliate by going after custody of Douglas Forrester (Henry Joseph Samiri).
Thomas is not going to be happy with Hope putting him in his place. Thomas doesn't truly see what he did wrong so he's not going to sincerely apologize for anything. Thomas is trying his best to get what he wants through manipulation and it simply is not going to work with Hope. Hope will make it clear that she is done giving Thomas chances and making excuses for him.
The Bold And The Beautiful: Brooke Logan Supports Taylor Hayes
Brooke will continue to argue with her sister Katie about Taylor.  Katie believes that if Taylor turns herself in then someone can get through to Bill Spencer (Don Diamont). Brooke refuses to allow Taylor to sacrifice herself when Bill has already bought off a judge. Taylor turning herself in to the cops would serve no purpose but put Taylor in prison.
Taylor made this mistake years ago. Taylor made amends for her crime. Bill forgave her for it. Taylor even went to a mental institution because of this. Taylor is certainly not the enemy here. Sheila Carter is the enemy and needs to be taken down. Sheila is who they need to concentrate on and that is all.
Be sure to catch up on everything happening with B&B right now. Come back here often for The Bold And The Beautiful spoilers, news, and updates.