General Hospital Spoilers: Did Britt Really Have Huntington's or is Something Else Amiss?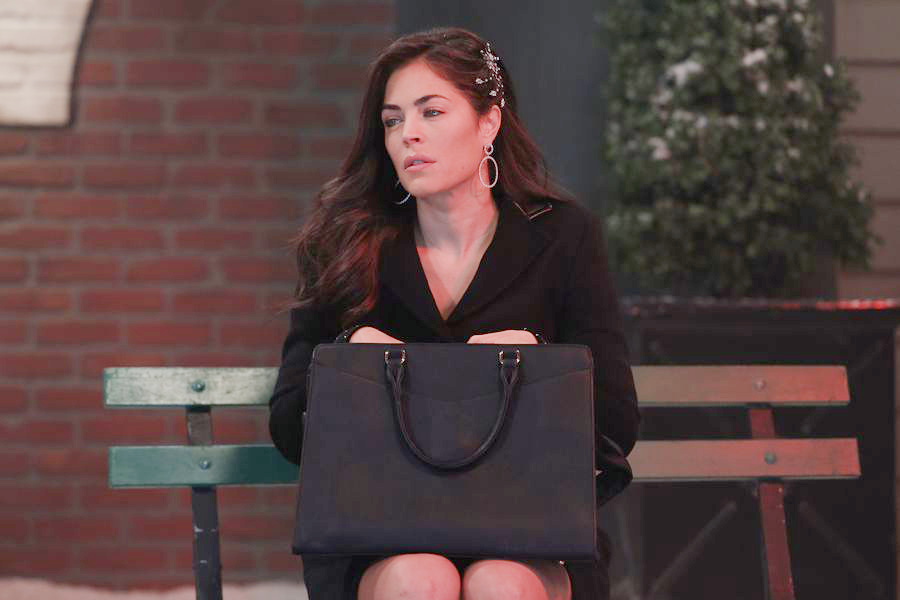 General Hospital Spoilers reveal GH fans are divided on the truth about Britt Westbourne's (Kelly Thiebaud) untimely demise and whether or not she was truly afflicted with Huntington's Disease. Some fans seem to think there are no questions about it given the symptoms Britt was suffering from, but others say it's Port Charles — so anything is possible!
Could those symptoms have been caused by something more sinister? Was someone else pulling these puppet strings all along who has yet to be revealed, or might they be right under Liesl Obrecht's (Kathleen Gati) nose? Certain fans are on the fence and afraid to commit to one side or the other in this debate. Here's a look at the facts so you can decide for yourself – did Britt really have Huntington's?
General Hospital Spoilers — Waffling Away
Some fans are on the fence about this theory. Yes, it's Port Chuck and crazier things have happened, but would they really kill Britt off without a real reason to? Let's not get caught up in our feelings, GH fans. They killed Britt off because Kelly was leaving for a primetime role and they decided no one else could fill her shoes. That's a compliment. The only way to really make Britt's story go on is to leave something of a ripple effect in the wake of her death. A conspiracy that reveals she never had Huntington's is just the ticket for that, don't ya think?
GH Spoilers Hint Britt Believed She Had Huntington's, and So Do These Fans
Of course, some fans strongly believe she was sick. There's no doubt about it in their minds. After all, Britt did have symptoms. She had a positive test for the Huntington's markers when she was on the run in Canada, under an assumed name, at a hospital where no one knew her. But what if that's just what they wanted us to think? We saw the softer side of Britt since her diagnosis and came to love someone we once hated, or at least loved to hate. That was the goal, and Britt turned her whole personality around just like that. Still, some fans aren't budging and insist it's too much of a stretch to claim anyone pulled the wool over her eyes in this way.
General Hospital Spoilers — Avid GHers Know This is Another Ruze
Longtime GH fans know the history of the show far too well not to see through this conspiracy. Recall that when Victor Cassadine (Charles Shaugnessy) burst back onto the scene, he abducted Liesl and held a mysterious medical file over her head that he threatened would be her undoing. Little did Liesl know at the time of booking her flight to a medical conference on Huntington's Disease that it was Victor who orchestrated the entire fake conference just to trap her.
Britt had been on the run with Jason at the time and it would have been easy for an obsessed stalker like Vic to keep tabs on her and make sure the test she got was fudged. From the point of diagnosis, Britt assumed any issue she had was related to Huntington's, and when Austin Gatlin Holt (Roger Howarth) brought in his specialist friend, they didn't use any labs — only Britt's self-report. What if her self-report was merely a catalog of symptoms she was suffering from being poisoned by Vic? All this and more lies ahead. Keep checking back with us for more General Hospital news and spoilers so you don't miss a minute of it!
You Might Also Like!
---
We would love you too SUBSCRIBE to Soap Spoiler's FREE newsletters.  It will be sent to your email inbox twice daily, once at 9:30 AM EST and the other at 6:00 PM EST.
Additionally, you can sign up for Celebrating The Soaps new post FREE notifications which sends a notification to your cell phone when a NEW post goes up.   You will never miss anything that way! You can easily UNSUBSCRIBE HERE!
We LOVE hearing from our fans so please leave us a comment about the show or this article, below!