General Hospital Spoilers UPDATE Thursday, January 26: Shocking Surprises, Showing Up, Standing In Faith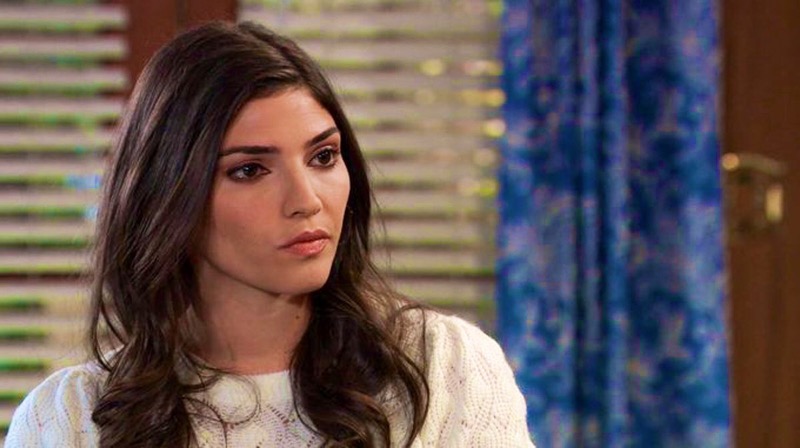 General Hospital spoilers for Thursday, January 26 tease shocking surprises, showing up, and standing in faith in Port Charles. Brook Lynn Quartermaine (Amanda Setton) has a shocking surprise, Sasha Gilmore (Sofia Mattsson) encourages someone to show up, and Willow Tait (Katelyn MacMullen) stands in faith for miracles to happen.
General Hospital Spoilers: Talking About The Future
At Kelly's, Trina Robinson (Tabyana Ali) and Spencer Cassadine (Nicholas Alexander Chavez) talk about the future as she questions his motives in wanting custody of his sibling. Spencer asks her what if the future wasn't so distant, and their future could happen sooner, having also discussed their "pretending to date" to draw out the real Hook. Spencer has some big plans for the future of his little brother or sister, and they don't include his father, Nikolas Cassadine (Marcus Coloma) or Esmé Prince (Avery Kristen Pohl).
He'd mentioned to his uncle Sonny Corinthos (Maurice Benard) previously about buying a house and hiring a nanny, since he has access to his trust fund. Sonny, like Trina, also had his doubts, but Spencer remains undeterred.
GH Spoilers: Encouraging Talk
At the hospital, Ned Quartermaine (Wally Kurth) attempts an encouraging talk to Michael Corinthos (Chad Duell), talking about his first forever family. To Michael, forever doesn't seem very long as Willow's health continues to fail, but Ned is trying to be positive. Not only Nina Reeves, (Cynthia Watros) but many others of Michael and Willow's friends and extended family are getting tested to donate bone marrow. Results are still pending for Nina and she worries more and more about her newly discovered birth daughter.
General Hospital Spoilers: Shocking Surprises
Ned's daughter Brook Lynn is also at the hospital to visit Willow, when she has a shocking surprise. She sees someone unexpected and she's not too happy at the sight of them as she demands to know what they're doing there. It sounds like she runs into Nina, who's persona non grata, birth mother and bone marrow donor or not.
If Willow is going to survive they can't be so picky about a bone marrow donor as long as they're healthy and willing to donate. Beggars can't be choosers, especially not when they're begging for their life.
GH Spoilers: Showing Up
Sasha, Nina's former fake daughter encourages Nina to show up for Willow the way she showed up for her. Nina looks sad and she's probably just had a tongue lashing from the outspoken Brook Lynn. Even though Nina wasn't really Sasha's birth mother, she's always been there for her, except for a short time period when they had a falling out. That was when the truth was first revealed that Valentin Cassadine (James Patrick Stuart) had hired Sasha to play the part. But they've made amends since and now are as close as they were before.
General Hospital Spoilers: Time To Pay
Meanwhile, at The Savoy, Sasha's mother in law and financial guardian Gladys Corbin (Bonnie Burroughs) looks nervous, and with good reason. Selina Wu (Lydia Look) is demanding payment on Gladys' gambling debt and she probably doesn't have it. But maybe she'll get a last minute save from Sasha's new friend, having gotten acquainted with Cody Bell (Josh Kelly) a few days ago.
Cody will make a connection, and that's probably when he realizes the Gladys he knows from Selina's high stakes poker game is Sasha's mother in law. Maybe he'll intervene and win a game for her, although it'll put him on Selina's bad side again.
GH Spoilers: Drew Cain Makes His Feelings Clear
Back at the Quartermaine gatehouse, a worried Carly Spencer (Laura Wright) asks a tense looking Drew Cain (Cameron Mathison) about their relationship. She asks him what about them, where do they stand? Drew was very disappointed and angry when he found out Carly had lied about knowing Nina is Willow's birth mother. Not only that, she sabotaged his search for Willow's birth family, with her needing a bone marrow transplant. Carly may not hear what she wants to hear, because he wasn't real positive about her talking to Olivia Quartermaine (Lisa LoCicero) previously.
General Hospital Spoilers: Standing In Faith For Miracles
A weak and sickly Willow tells someone visiting with her at the hospital that miracles happen every day. She doesn't look like she's just gotten good news, but is trying to hang on to hope. If Nina's not a viable candidate to donate bone marrow to her, they're back to square one.
Willow's running out of time before she has to make a decision to save her baby via c-section. It may come down to a decision between her baby's life and hers, a decision she never thought she'd have to make.
Be sure to catch up on everything happening with GH right now. Come back here often for General Hospital spoilers, news, and updates.