General Hospital Spoilers: Heather Rolls on Anna as Her Get Out of Jail Free Card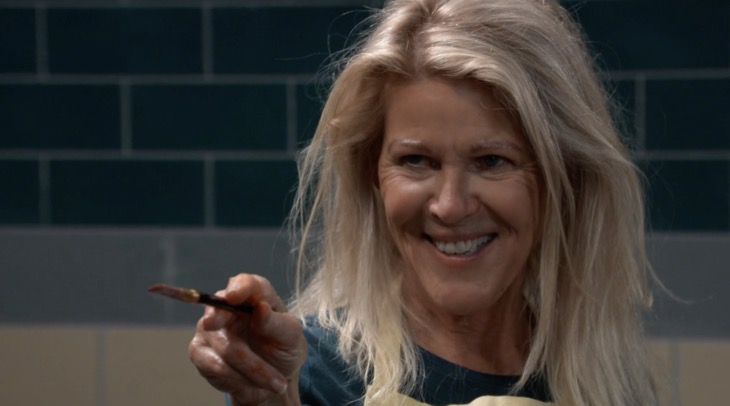 General Hospital spoilers tease Dante Falconeri (Dominic Zamprogna) recently made a trip to visit Heather Webber (Alley Mills). This isn't how Dante normally spends his time, but Heather is the last known person to see Anna Devane (Finola Hughes) — and she's the only person they have left who might be able to identify who hijacked and wrecked the prison transport van.
While Heather has pretended not to have any information thus far, she did hint to Dante that she may be willing to cooperate — for a price. Since he's not willing to negotiate with a clinically insane woman, Dante is left empty-handed, and Heather stayed behind bars in the same fashion. However, Dante's visit inspired Heather, and she's certain she can get herself out of the looney bin if she can prove she's reformed enough to go free.
General Hospital Spoilers — Heather Pleads for Help
Heather tried to take her best shot at getting Scott Baldwin (Kin Shriner) to help her secure a ticket out of Spring Ridge, but Scott wasn't having it. He's been known to take on some pretty crazy cases and go up against some of the best prosecutors and attorneys Port Charles has to offer, but defending Heather is a new low he just isn't willing to stoop to — yet, anyway. Heather might have something else up her sleeve that could help bring Scott on board down the line.
GH Spoilers Tease Heather Dangles Bait for Dante
Dante was cordial to Heather when he escorted her from Kelly's back to D'Archem, and he was kind to her when he visited her at Spring Ridge, where she is currently the artist in residence. Don't ask us what that means, but it's planting her in the same place as Ryan Chamberlain (Jon Lindstrom) — so we're here for it. In fact, rumor has it Ryan's interview with the PCPD is going to be a critical component of Heather hightailing it out of there. Will Dante accompany the PCPD to Ryan's interview and bump into Heather again? Might she be willing to negotiate better terms next time and share more about what she knows of Anna's getaway?
General Hospital Spoilers — Free at Last
Believe it or not, Heather is likely to be roaming the streets of Port Charles again soon. Whether it comes as part of an appeal and release from a judge who must be out of their mind, or it's part of an escape — perhaps with Ryan in tow — remains to be seen. For now, we know Heather has an agenda, and she's got a few scores to settle. Did Heather actually sit idly by the van after the crash and watch as Anna took off with Valentin Cassadine (James Patrick Stuart), or did she come across information about Anna since then via other contacts on the inside? Either way, she knows how to use it to her advantage. Will she spill the tea on Anna to secure her own release? Stay tuned for more General Hospital news and spoilers as this storyline continues to develop!