The Young and the Restless Preview: Surprise Marriage Proposal, Tense Abbott Thanksgiving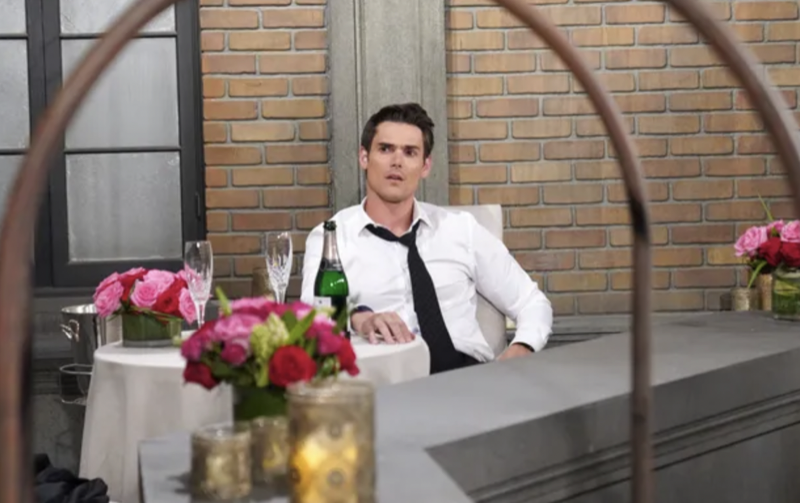 The Young and the Restless spoilers for the week of November 21 reveal that Adam Newman (Mark Grossman) will suddenly propose marriage. How will Sally Spectra (Courtney Hope) respond? Meanwhile, the Abbott Thanksgiving gets tense when Diane Jenkins (Susan Walters) must share a table with Ashley Abbott (Eileen Davidson) on Thanksgiving.
Tense Abbott Thanksgiving
Y&R spoilers reveal that it is Thanksgiving, which means family and friends will be gathering together. In the weekly preview clip, everyone sits down at the table at the Abbott manse. Jack Abbott (Peter Bergman) and Kyle Abbott (Michael Mealor) are present. Others in attendance include Traci Abbott (Beth Maitland), Summer Newman-Abbott (Allison Lanier), Harrison Locke (Kellen Enriquez), Ashley, Diane and Allie Nguyen (Kelsey Wang).
It is teased that everyone will go around the table and talk about what they are grateful for. Since this is a soap, it will be interesting to hear what Ashley has to say about Diane. This could cause some drama, so let's see if Jack can keep the peace.
Y&R Spoilers: Adam Newman's Proposal
While Adam has been focused on Chelsea Lawson (Melissa Claire Egan) and Connor Newman (Judah Mackey), he hasn't forgotten about Sally. However, Sally is moving on with Nick Newman (Joshua Morrow). That pushes Adam to make a bold move by suddenly asking Sally to marry him. How will Sally react to this unexpected proposal of marriage?
Daniel Romalotti and Lily Winters Reunite
The Young and the Restless spoilers for the week of November 21 reveal that Daniel Romalotti (Michael Graziadei) returns to Genoa City. Of course, Daniel will reunite with Phyllis Summers (Michelle Stafford). However, that won't be the only person that Daniel faces again.
In the weekly preview clip, Daniel and Lily see each other again. Lily is excited to see Daniel and shares a warm embrace with the character. So, what does this mean for Daniel, Lily and Billy Abbott (Jason Thompson)? The situation with Chelsea could definitely shake up romances across Genoa City.
The Young and the Restless Spoilers: Programming Notes
There will be no new episode of Y&R on Thursday, November 24 due to Thanksgiving in the US. Don't expect to see a new episode on Friday, November 25, either. Friday's episode on CBS will be preempted for football.
Which storyline are you looking forward to seeing the most during the week of November 21? What are your predictions for Adam, Sally, Nick, Lily, Daniel, Billy and Chelsea? What does the future hold for Jack, Phyllis, Ashley, Diane, Kyle and Summer? Share your thoughts and remember to keep watching the CBS soap to find out what happens next.
Be sure to catch up on everything happening with Y&R right now. Come back often for The Young and the Restless spoilers, news, and updates.