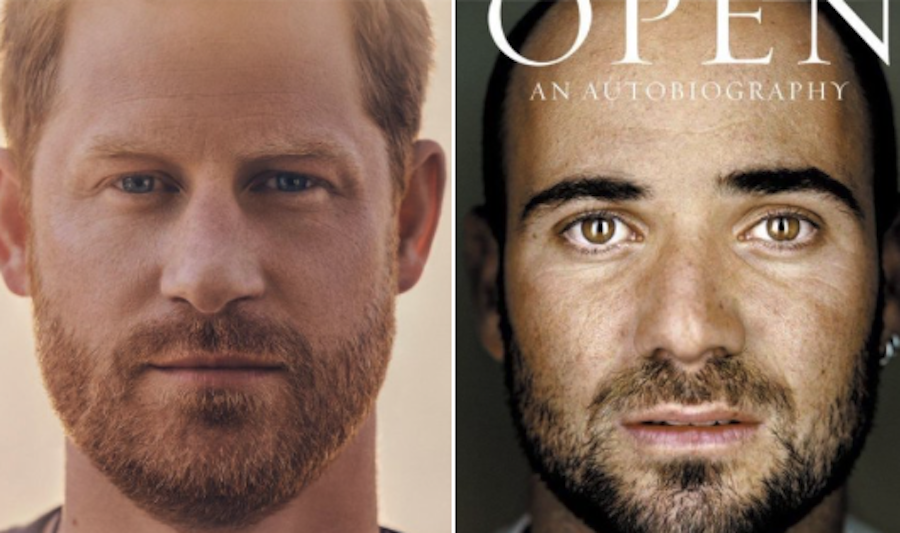 Maybe it's just a coincidence, maybe it's not. British Royal News suggests that Prince Harry may or may not have gotten inspiration for his new memoir cover from Andre Aggasi's own book, Open. Here's what you need to know.
British Royal News: Did Prince Harry Copy Andre Agassi's Book Cover?
While no one knows where the inspiration from Harry's new cover for his book Spare comes from, critics can't help but wonder what must have been on his mind when he picked out the all-important photo for his book. The cover of Spare is a close up of Prince Harry staring straight into the camera. The title refers to the Duke of Sussex and his older brother Prince William, who is the next in line for King Charles III's throne. 
Piers Morgan, who probably doesn't spend a day not thinking about Prince Harry and Meghan Markle, took to his Twitter account to point out the similarities of Harry and Andre's books. He wrote, "This is hilarious.. Harry didn't just hire same ghost-writer who did Andre Agassi's book, he's even copied the front cover photo. Only difference is one had a world class talent for sport, the other a world class talent for whining."
British Royal News: What's Next For The Royal Family?
Many critics also commented with, "Yes and apparently he paid a good price for someone to come up with the idea. A book about yourself with a picture of you on the front. Clever idea, wish I had thought of it," along with, "I don't think Agassi invented having his picture taken but am willing to be proven wrong."
Penguin Random House released a statement on Thursday that said, "SPARE, the highly anticipated #PrinceHarryMemoir, will be published globally on January 10, 2023." It also includes a caption that reads, "We are excited to bring to readers everywhere the remarkably personal and emotionally powerful story of Prince Harry, The Duke of Sussex. For Harry, this is his story at last."
So far Prince Harry himself hasn't made any comments about his book cover but there's a good chance that he'll begin his promotional blitz for his memoir any day now. Watch this space.
In the meantime, let us know what you think with your thoughts in our comments section again. Be sure to catch up with everything on the British Royal Family right now. Come back here often for the British Royal Family news and updates.