British Royal News: Meghan Markle Criticized for 'Smirking' Behind Kate Middleton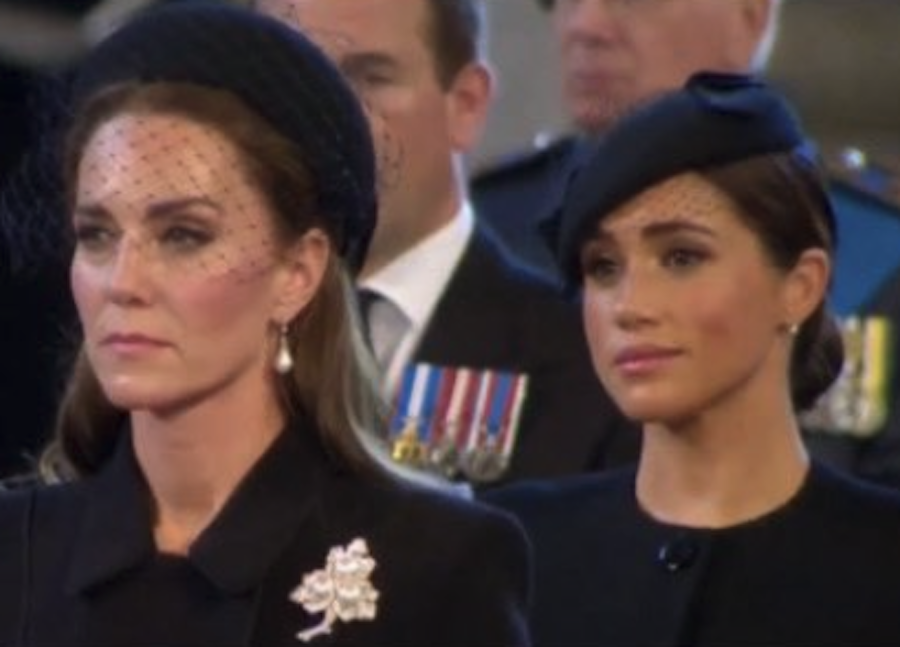 It's no wonder she's been wanting to stay as far away as possible from the UK, seeing how she just can't catch a break. British Royal News says that Meghan Markle has been criticized online for apparently 'smirking' behind Kate Middleton during Queen Elizabeth's funeral procession. Now, whether or not the Duchess of Sussex was really smirking is anyone's guess, but it seems like her critics have already made up their mind. Here's what you need to know.
British Royal News: Meghan Markle Criticized for 'Smirking' Behind Kate Middleton
Apparently, some people believe that Meghan was acting very disrespectful this week by not abiding by royal tradition and protocol. While that statement is hard to confirm, one person wrote on Twitter that Mehgan is "just there for the big historic shots and to restify her right of pedding her title, her right to exit."
Um, okay. Journalist Yashir Ali commented on the matter with, "Meghan Markle is a very famous and powerful woman who is not above criticism but so many of the takes on her are absolutely unhinged."
Of course, many of his Twitter fans seem to agree. Some added, "They actually love having her be present at this types of events and are sad she left because they absolutely relish the abuse and racism they throw her way. Her face is the softest possible face. It's warm and thoughtful and invested. That is, in no possible interpretation, a smirk," along with, "Is that a smirk? I think she's there for her husband as any wife would be. This is crazy. It's my understanding that every morning for 4 years she personally pissed in the Queen's Cherrios. (That's sarcasm, just in case, because Twitter is weird)."
British Royal News: Was Meghan Really Smirking?
Another critic wrote, "Yeah, let's be honest.  This is just plain racism.  There's not a damned thing she could do that someone like this wouldn't criticize. It's so weird too, coming from people who obviously want to sell their soul to be a part of the royal family. It's like they cant stand that she is, in fact, a royal now with royal children."
In the meantime, let us know what you think with your thoughts in our comments section again. Be sure to catch up with everything on the British Royal Family right now. Come back here often for the British Royal Family news and updates.