The Bold and the Beautiful Spoilers: Brooke Gets Drunk and Cheats With Deacon – Sheila Strikes With Vengeance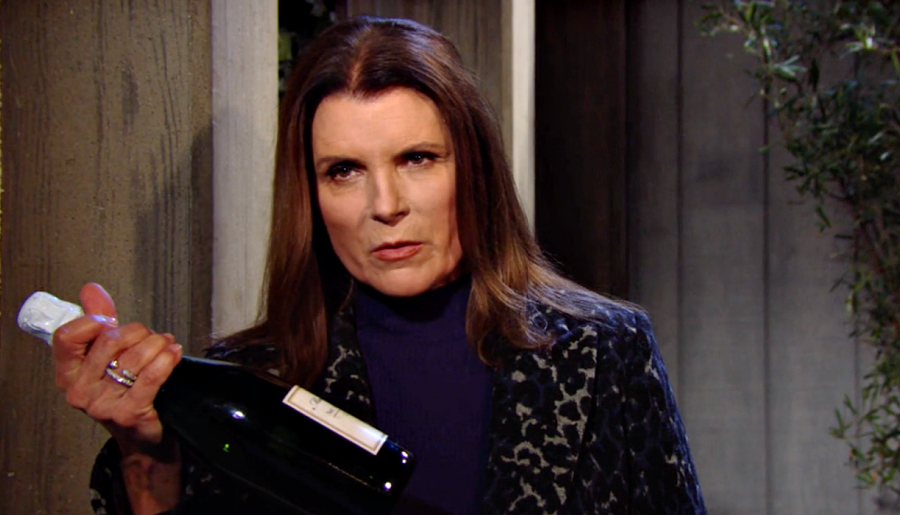 The Bold and the Beautiful spoilers document that Brooke Logan Forrester (Katherine Kelly Lang) is teased to be forced off the wagon by Sheila Carter (Kimberlin Brown). The duplicitous villain will target Brooke after a confrontation happens.
Sheila's major breakthrough with John Finn Finnegan (Tanner Novlan) will be threatened by Brooke's actions, at least in Sheila's mind. That result will produce a dangerous reply, with Sheila pulling a Quinn Fuller (Rena Sofer).
Bold And The Beautiful Spoilers – Making The Old Switcheroo
Viewers saw Eric Forrester (John McCook) offer Brooke non-alcoholic champagne on Christmas Eve. That was a foreshadowing of coming events.
Brown's vindictive character is believed to follow in Quinn's footsteps, as she provides Brooke with alcohol without her knowledge. That will serve to push Brooke off the wagon and lead to trouble that involves Deacon Sharpe (Sean Kanan).
Hardcore fans recall that Quinn poured alcohol into Brooke's juice bottle in the recent past. Brooke felt buzzed but did not know what happened to her.
The above angle was never revisited, and Quinn's actions remain unknown to almost everyone. Shauna Fulton (Denise Richards) and Thomas Forrester (Matthew Atkinson) are in the know but never exposed Quinn's terrible behavior.
Bold And The Beautiful Spoilers – Brooke Logan Forrester Does Not Deserve Fate
Sheila is provoked by Brooke's latest sharp opinion. Lang's iconic character has a serious personality flaw, as she projects possession of special knowledge regarding how everyone in this version of Los Angeles, California, should live their lives.
Brooke is vehemently opposed to Sheila having any interaction with Sinn's children. Of course, it is not Brooke's place to chime in about that very sensitive topic. Along with Sheila, Taylor Hayes (Krista Allen), Ridge Forrester (Thorsten Kaye), Bill Spencer (Don Diamont), and Jack Finnegan (Ted King) are the genetic grandparents, not Brooke.
So, Brown's character will decide that Brooke needs to be punished for her actions. Replacing non-alcoholic champagne with the hard stuff becomes Sheila's twisted consequence.
Bold And The Beautiful Spoilers – Deacon Sharpe Part Of The Soapy Mix
Deacon has a weakness. Her name is Brooke.
Kanan's character told his one-time flame that he never got over her. Brooke was taken aback and did not know what to say.
Coming episodes will have Brooke, Sheila's supplied alcohol, and Deacon part of the soapy mix. That creates an inevitable consequence for Brooke to deal with in the coming weeks on B&B.
This site is a leading source for everything linked to The Bold and the Beautiful. Check back regularly for B&B spoilers and news!