The Bold and the Beautiful Star Denise Richards Stirs Controversy With Maskless Instagram Photo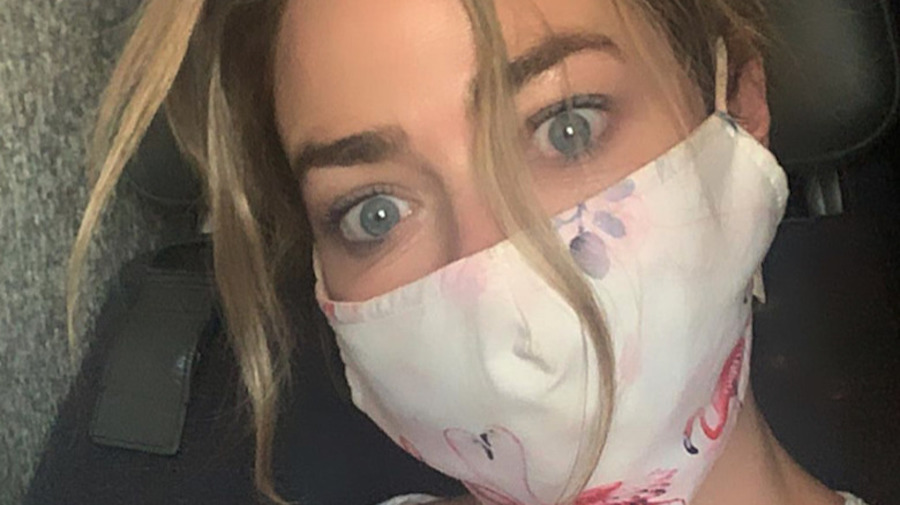 While it seems like Shauna Fulton has cooled down with all the trouble she's managed to stir on The Bold and the Beautiful, it looks like her portrayer Denise Richards has managed to create a little drama of her own. The Hollywood actress managed to ruffle a few feathers on the internet when she posted a photo of herself not wearing a mask while flying on a private jet. Here's what you need to know.
The Bold and the Beautiful Star Denise Richards Stirs Controversy With Maskless Instagram Photo
Earlier this week the B&B star shared a photo of herself on her Instagram story in which she appeared to be maskless and hiding her face underneath a winter coat. The 50-year-old wrote,  "Anyone that is upset that I [am] not wearing a mask I'm hiding under a hoody amd [sic] a huge winter coat. Please. Thicker than any mask!!!!!!"
Soon after she posted her Instagram story, both her fans and her critics alike reminded her that CDC guidelines require that all passengers must wear face masks while on a plane, unless of course they are eating or drinking. According to People, sources close to Denise now say that the actress regrets posting her photo online.
One tipster told the publication, "Denise realized it wasn't the right thing to do to post the picture. In reality, she wore her mask the entire time except when she was taking sips of water. She believes in masks, and she really does follow the rules. The way she handled it was strange, posting the photo. She's ready to admit she was an idiot to post the photo!"
The Bold and the Beautiful News: Denise Regrets Maskless Pic
The tipster added, "She was just flying home, sitting in her seat, and she put a coat over her head… you're allowed to take a sip of water and pull your mask down. So when she took her mask down, took it off for a second to relax and drink water, she posted this thing 'I hope nobody's upset' and she thought it was tongue-in-cheek. But people did not think it was funny."
So far Denise herself has not made any comments about the controversy.
In the meantime, let us know what you think by leaving us a line with your thoughts in our comments section below. The Bold and the Beautiful airs weekdays on the CBS network. Check your local listings for times.
Be sure to catch up with everything on B&B right now. Come back here often for The Bold and the Beautiful spoilers, news and updates.