The Bold and the Beautiful Spoilers: Will Sheila Destroy Deacon's New Prospects?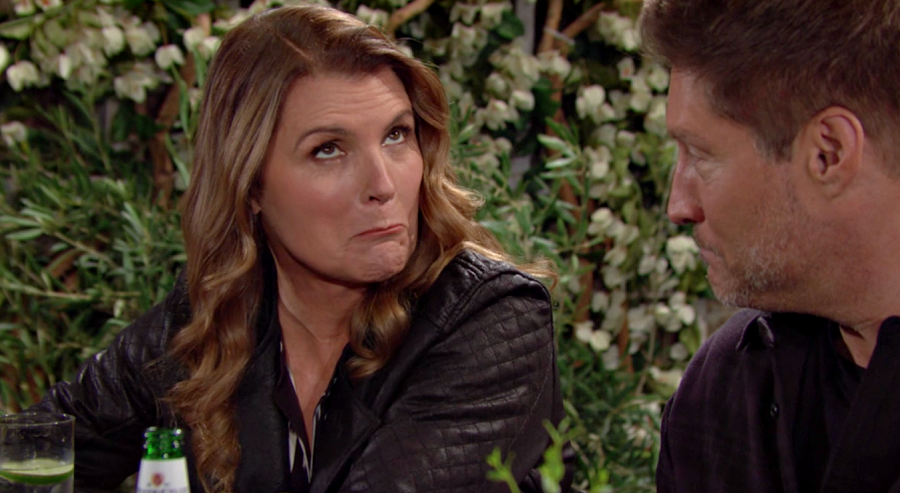 The Bold and the Beautiful spoilers document that Deacon Sharpe (Sean Kanan) is right to believe that he is making progress. Hope Spencer (Annika Noelle) was the first needed key that unlocked Deacon's ability to make a comeback in this version of Los Angeles, California.
Ridge Forrester (Thorsten Kaye) raises the roof whenever he is in the same room as Deacon. But that reaction is working to Deacon's advantage and may result in him becoming Brooke's option.
Alternatively, Sheila Carter's (Kimberlin Brown) anger shifts based on whoever she holds responsible for whatever plight emerges in her never-ending pursuit of stability. As of now, Steffy Forrester Finnegan (Jacqueline MacInnes Wood) is the target.
Bold And The Beautiful Spoilers – Momentum Can Suddenly Shift
Pressure is building because of Sheila's jealously of Deacon's momentum and her belief that opportunities with John Finn Finnegan (Tanner Novlan) could be fleeting. Sheila has no buffer, which allows her frazzled mind to veer toward dark areas.
While Deacon has quickly ingratiated himself in Hope's life and has Brooke's sympathy for that bonding cause, he is still in jeopardy.
Sheila wants Deacon to help her connect with Finn. But Kanan's character told her that is not possible. She never takes no for an answer after setting her sights on a perceived, attainable target.
Bold And The Beautiful Spoilers – Who Would Choose To Couple With Sheila Carter?
Sheila is unmarried and appears to be virtually undatable. Who in his right mind would ask Sheila out or agree to date her if she inquired?
This daytime villain has a deep history of psychotic behavior and violence against numerous soapy characters. She kidnaps some, shoots others, and plots the demises of those who once befriended her. Those are not attractive qualities.
Cell block Sheila has no redeemable qualities, yet Finn feels something for his birth mother. Incredibly, his birth father, Jack Finnegan (Ted King), once had a passionate feeling for her as well.
Deacon rejected Sheila's overtures. Li Finnegan (Naomi Matsuda) was betrayed. So, could it be possible that discarded Jack re-couples with Brown's character due to desperation?
Bold And The Beautiful Spoilers – Many Factors Are Converging
Having the Deacon-Sheila double factor would be enough to create great soap. But including a Brooke Logan Forrester (Katherine Kelly Lang) and Taylor Hayes (Krista Allen) rematch heightens matters significantly.
The soapy possibilities are almost endless, as current family issues, history, and an unknown future for all involved equals delicious viewing for B&B's loyal fans.
Deacon regains a relationship with Brooke, while Taylor and Ridge reconnect? That leaves Sheila out in the cold once again.
But as long as Sheila connects with Finn and is allowed to see Hayes Forrester Finnegan (Samantha Worden and Piper Harriet), then Brown's character will be okay? No, as Deacon seems likely to learn.
This site is a leading source for everything linked to The Bold and the Beautiful. Check back here at Soap Spoiler regularly for B&B spoilers and news!