The Bold and the Beautiful Spoilers: Steffy Is Sheila's Greatest Enemy – Taylor Thwarts Daughter's Plans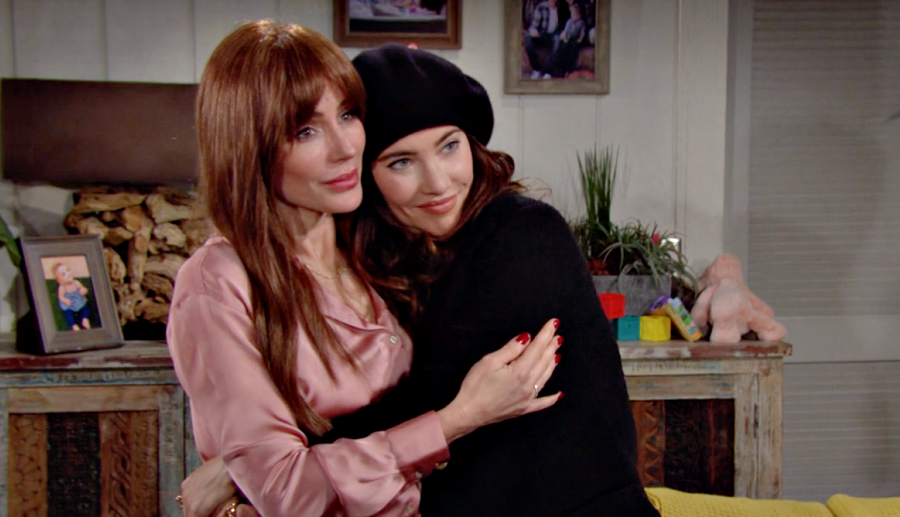 The Bold and the Beautiful spoilers document that Sheila Carter (Kimberlin Brown) needs an edge. She lost Deacon Sharpe (Sean Kanan), who she intended as a useful tool. So, now her attention must turn elsewhere.
Jack Finnegan (Ted King) might still serve Sheila's purposes. If his marriage to Li Finnegan (Naomi Matsuda) is over or ends, then Sheila could become a more regular acquaintance. Jack might need Sheila to help him repair matters with their son.
However, Taylor Hayes (Krista Allen) is back in Los Angeles, California. That sets up an intriguing, potential conflict.
Bold And The Beautiful Spoilers – Taylor Hayes' Coincidental Arrival
Teasers indicate that Sheila will be part of a Christmas celebration that includes Taylor and Sinn. Allen's character knows that strategy will be crucial if she wants to restore the Tridge family.
Winning Ridge Forrester (Thorsten Kaye) back will mean that he must first fall out of love with Brooke Logan Forrester (Katherine Kelly Lang). He is already strongly disappointed with his Logan, as Brooke seems to be welcoming Deacon with no real regard for his past actions or anticipation of bad history repeating.
Taylor arrives exactly when Ridge has doubts about Brooke's trust. That is an intentional soapy coincidence that pushes the plot toward engaging conflict. It suggests a renewal of historical battles with included twists that involve current storylines.
Bold And The Beautiful Spoilers – Playing One Enemy Off Another
If Sheila senses that Taylor is open to even conditional forgiveness, then Brown's character will gain the opening she needs. Brooke perceiving that Taylor is enabling Sheila would be a wild scenario, with many repercussions.
Taylor can not possibly forgive Sheila. It is more likely that Allen's character will want to keep an eye on her.
Sheila is far from naive. So, she will likely aim to use whatever appearance of appeasement exists between them to unnerve Steffy.
Bold And The Beautiful Spoilers – Steffy Forrester Finnegan Protects Family
Steffy is a strong person. But she is also a human being with feelings like anyone else, including Sheila.
Wood's character knows that Sheila has it in for her because of the shield that has been raised over John Finn Finnegan (Tanner Novlan). Sheila's relentless nature will result in moral boundaries being trampled when the time to strike is determined.
Taylor's return gives Steffy needed protection and the best possible ally she could have. But one of daytime's all-time villains can never be written off. So, devoted fans await the fierce fight.
This site is a leading source for everything linked to The Bold and the Beautiful. Check back on Soap Spoilers regularly for B&B spoilers and news!