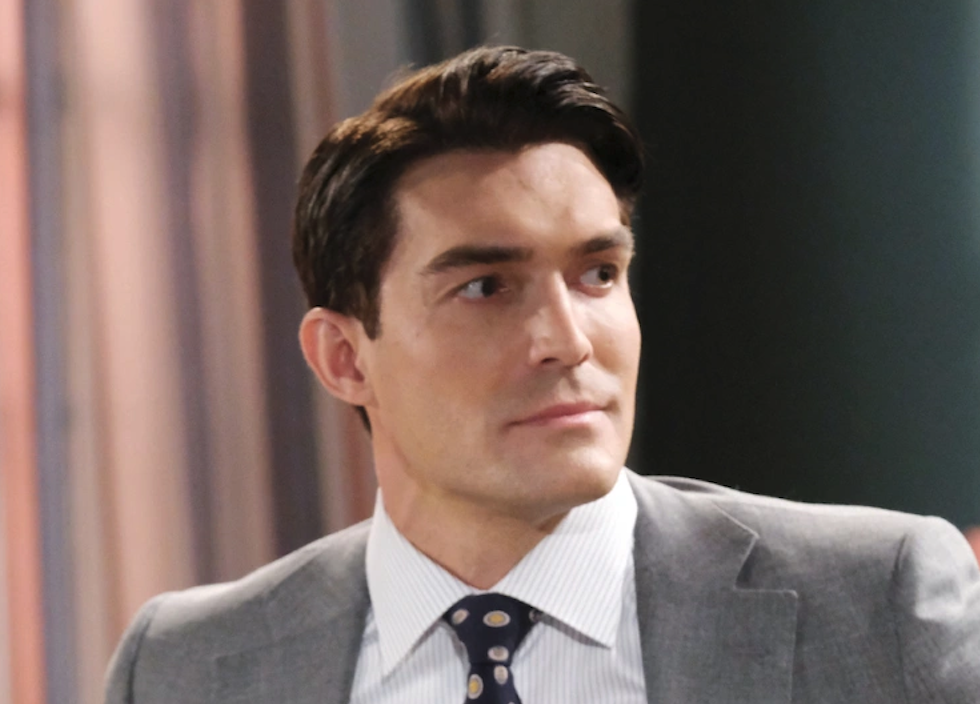 Days of Our Lives spoilers suggest that Dimitri is about to put a new plan in motion and that it will definitely raise an eyebrow or two. Megan, who is now fully aware that Dimitri will get a whole lot of cash if he marries before the age of 40, suggests that he and Kristen DiMera tie the knot. Keep reading below for everything you need to know.
Days Of Our Lives Spoilers: Dimitri Goes Face To Face With Gwen
Of course, Dimitri does not think this is a good idea at all. Actor Peter Prote, who plays Dimitri on the hit Peacock soap, puts it this way to Soap Opera Digest in a new interview, "First of all, Kristen is his aunt. Meghan doesn't think it's a big deal, but it is to them. It doesn't make sense. Meghan is very one-track minded, and that is for power and world domination, and the fastest way that she can achieve this is if he gets married before his 40th birthday, which is about three months from now. For Dimitri, he thinks that if his mother is happy, then he will be happy, too."
Days of Our Lives spoilers say that after they realize that Megan's plans won't happen, Gwren walks in. She wants to interview the newest Salemite for the local newspaper. Peter previews, "In perfect soap opera style, Gwen shows up at the exact moment that they need her. But Dimitri is a little truculent. I think that he reverts to being a kid around his mother and he's frustrated with the idea of having  to go through with his new plan when all he wants is to just play house for a second and be with his family. But when he sees Gwen, there is something immediately interesting about her. I think he's intrigued. I think there's immediate chemistry. I think that even if he is pushing against it, there are undeniable sparks that he is met with."
Days Of Our Lives Spoilers: What Will Dimitri Do Next?
Days of Our Lives spoilers say that Dimitri agrees to be interviewed by her after all. Peter says, "I think that his intention is to please his mother, to make her happy, to get the money. He sees this as a smart business plan."
Of course, Days of Our Lives fans will have to tune in  to find out what will happen next! In the meantime, let us know what you think by leaving us a line with your thoughts in our comments section below. Days of Our Lives airs weekdayson the Peacock network. Check your local listings for times.
Be sure to catch up with everything on DOOL right now. Come back here often for Days of Our Lives spoilers, news and updates.