General Hospital Spoilers UPDATE Friday, January 27: Guilt Trips, Exploding Wrath, Shocking Exits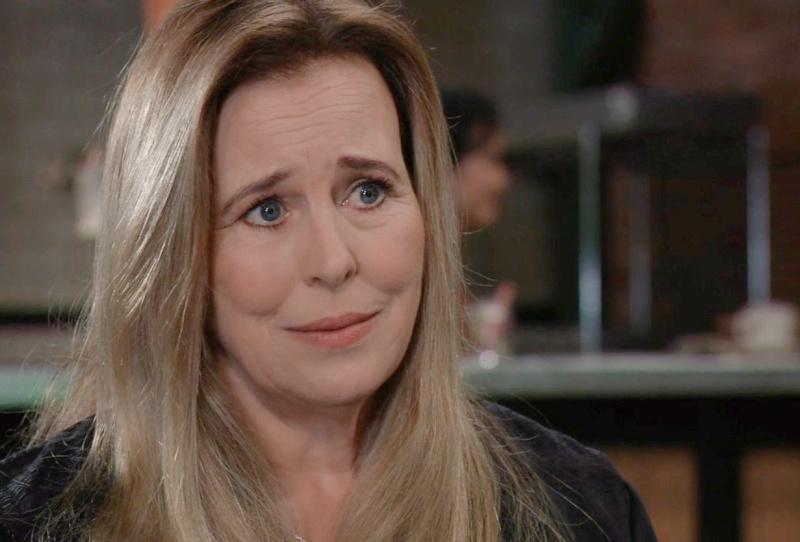 General Hospital spoilers and updates for Friday, January 27 tease guilt trips, angry wrath and shocking exits in Port Charles. Felicia Scorpio (Kristina Wagner) puts someone on a guilt trip, Laura Collins (Genie Francis) explodes in wrath and Martin Grey (Michael E. Knight) has a shocking elevator exit!
General Hospital Spoilers: A Big Decision To Make
At GH, Willow Tait (Katelyn MacMullen) has a big decision to make after finding out Nina Reeves (Cynthia Watros) didn't have the right genetic markers to donate bone marrow. With Wiley Corinthos (Viron Weaver) sitting beside her on the bed, she tells someone, likely Michael Corinthos (Chad Duell) to call her obstetrician. Dr. Sofia Navarro (Christina Ferraro) advised that the baby girl would need to be delivered by c-section before any bone marrow transplants could be done.
More than likely Willow has decided to have the baby delivered to save her life, should Willow not survive her leukemia. She's only a couple of weeks from being full term so it shouldn't make a substantial difference.
GH Spoilers: Guilt Trip
Felicia puts a guilt trip on Robert Scorpio (Tristan Rogers), Valentin Cassadine (James Patrick Stuart) and Anna Devane (Finola Hughes). She angrily asks if they're willing to have that on their conscience, likely talking about the plan for them, along with Lucy Coe (Lynn Herring) to fake their deaths.
This is part of the ultimate takedown plan of Victor Cassadine (Charles Shaughnessy) but it will have some unfortunate fallout. Felicia only too well remembers when she and Mac Scorpio (John J. York) took in a teenage Robin Scorpio-Drake (Kimberly McCullough) when Robert and Anna were presumed dead. She's likely thinking about the effects on Charlotte Cassadine (Amelie McLain) who's already worried about her papa, with her mother still in an indefinite coma.
General Hospital Spoilers: Victor Cassadine Explodes
At the Metro Court, Victor explodes while talking to someone on the phone, who obviously hears some bad news. He demands answers and he wants them immediately. Valentin, Anna, and Lucy barely escaped Paris with their lives, with Rene Levesque (Maria Tornberg) and Victor's goons dying in the catacombs. It's hard to say whether he's getting the cover story about Valentin, Anna and Lucy dying, or if he's upset that they've escaped.
Victor would be upset either way not intending for Valentin and at least Lucy to be collateral damage. He wouldn't care that much about Anna.
GH Spoilers: Exploding Wrath
Laura, also at the Metro Court, explodes in wrath as she tells someone they've gone too far this time! She may well be exploding at Victor if she's heard the cover story of what happened in Paris. She has to deliver bad news, both to Charlotte and to Martin if Valentin and Lucy are dead. If looks could kill, the person she's exploding at would be dead.
General Hospital Spoilers: Nina Reeves Wants Payback
Elsewhere, a livid Nina vents to Ava Jerome (Maura West), crying that she won't rest until "that woman" pays for what she did. Likely, Nina is talking about Carly Spencer (Laura Wright) and her not disclosing right away what she knew about Nina being Willow's mother. Even though she didn't have the right genetic markers to save her remaining daughter's life, they'd be further along to a cure.
There would have been more time to look for a matching donor if they had known sooner. As it is, Willow may not survive unless a last minute match miracle comes along.
GH Spoilers: From Aftermath To Afterglow
Carly and Drew Cain (Cameron Mathison) have made up after their big blowup over Carly's lack of disclosure and sabotaging his search for Willow's family of origin. They're still in bed after consummating their relationship and Carly asks him if he has any regrets. It's doubtful he has regrets about that, but like all of those close to Willow's situation they'll have regrets a search wasn't started sooner for a donor. But then, Willow didn't expect to be in stage four leukemia by the time it was safe for her baby for her to receive chemo, which isn't working.
General Hospital Spoilers: Shocking Elevator Exit
Martin has a shocking elevator exit as the door opens and he says what the hell…before he can finish, someone grabs his lapel to pull him out. That is probably Lucy, who wanted to call him as soon as she, Anna and Valentin got out of that catacomb. Lucy's one person who would vehemently oppose the playing dead plan.
If that's Lucy, Martin will be very happy once he recovers from his shock. But they'd better lie low lest they be seen by Victor, or they'll have even worse problems.
Be sure to catch up on everything happening with GH right now. Come back here often for General Hospital spoilers, news, and updates.