General Hospital Spoilers Thursday, December 1 Update: Carly Confronts Joss, Chase Leans On Sasha, Nina Needs Willow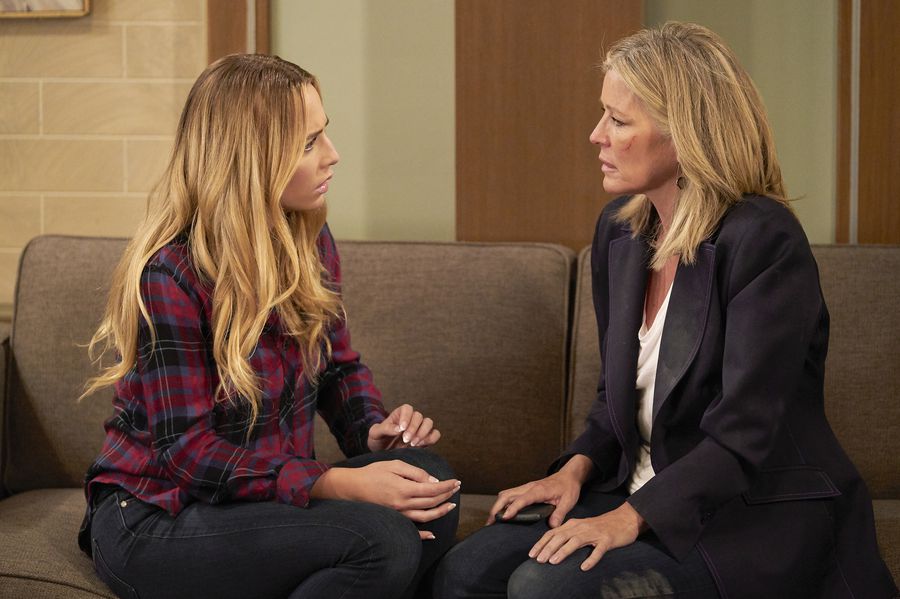 General Hospital spoilers reveals Josslyn 'Joss' Jacks (Eden McCoy) bares all to her mom. Michael Corinthos (Chad Duell) puts Dex Heller (Evan Hofer) in his place. Harrison Chase (Josh Swickard) and Sasha Gilmore Corbin (Sofia Mattsson) make up for lost time. Valentin Cassadine (James Patrick Stuart) looks to Sonny Corinthos (Maurice Benard) for help. Nina Reeves (Cynthia Watros) and Willow Tait (Katelyn MacMullen) clash, once again. Dante Falconeri (Dominic Zamprogna) tells Brook Lynn Quartermaine (Amanda Setton) "it's too late."
General Hospital Spoilers Thursday, December 1, 2022: Joss Needs Her Mom
Joss has spent months fighting what she knows she's feeling for Dex, and so far she's only opened up about it to Trina Robinson (Tabyana Ali). However, there was clearly an elephant in the room when Carly Spencer (Laura Wright) showed up to save Dex's life recently as he recovered from a gunshot wound in Joss' dorm room. Carly could see it all over her daughter's face — she was falling for the guy. Now, Joss is ready to tell Carly the truth, and possibly ask for some advice on how to let Cameron 'Cam' Webber (William Lipton) go without ruining their lifelong friendship.
General Hospital Spoilers Say Michael and Dex Butt Heads
Michael has been piecing things together and trying to figure out how Dex's cell phone ended up on his property. As they clear the air about what went down with Sonny, Michael could be more interested in what's going on with his sister. Either way, Michael will have a stern warning for Dex. Will he respect it?
GH Spoilers — Chase and Sasha Catch Up
Chase is down on his luck in the romance department right now and really in need of a friend. Lucky for him, Sasha is going to lend him an ear as they catch up on each other's lives. Will Chase be surprised when Sasha seems to understand Brook Lynn's point of view?
General Hospital Spoilers Tease Valentin Needs Sonny's Help
Valentin feels like he's on the brink of unearthing details about Lucy Coe's (Lynn Herring) alleged death that could free Anna Devane (Finola Hughes) from persecution, but he's going to need Sonny's help carrying out his next plan.
GH Spoilers — Nina and Willow Don't See Eye to Eye
It shouldn't surprise anyone when Nina and Willow get into it again. Nina just can't keep her nose out of Willow's business. This time though, it might blow up in Nina's face when she asks Willow for a favor, and she may leave Willow in dire straits.
General Hospital Spoilers — December 1 — Dante Sets Brook Lynn Straight
Brook Lynn is going to approach Dante about something very important to her, and he's going to tell her the time for her to intervene has passed. Could it be too late to right her wrong with the review board for Chase?
Which storyline are you most looking forward to following on GH on Thursday, December 1st? Let us know, and keep checking back for more General Hospital news and spoilers.