General Hospital Spoilers: Jordan Passes the Paternity Torch to Stella Just in Time for Curtis and Portia's Wedding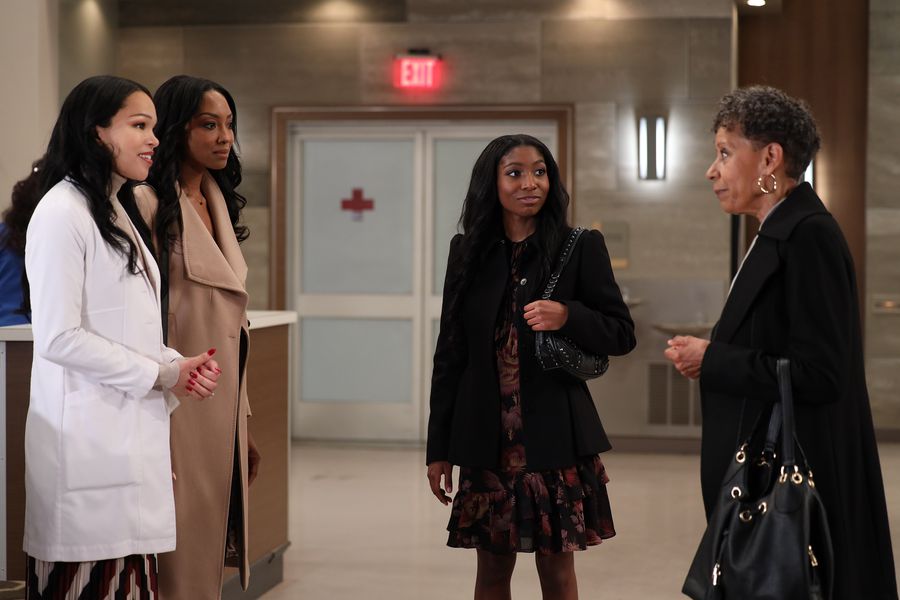 General Hospital spoilers reveal Jordan Ashford (Tanisha Harper) will soon be relieved of a burden she's carried alone for months. Knowing that Portia Robinson (Brook Kerr) has kept the truth from Curtis Ashford (Donnell Turner) all these years — that Trina Robinson (Tabyana Ali) might be his daughter and not Marcus Taggert's (Réal Andrews), it has crushed Jordan and left her keeping her distance from the happy couple. They're slated to get married in a few short weeks, and Jordan is going to pass the baton to Stella Henry (Vernee Watson) just in time for her to figure it all out before Curtis says I do.
General Hospital Spoilers — Trina and Stella Dish
Stella is back in Port Charles and eager to spend time with her family in the weeks leading up to Curtis and Portia's big day. When she bumps into Trina and Portia at GH, the conversation may take a turn toward what they've both been up to lately since Stella has been traveling. She could mention her reinvigorated interest in tracking down her family members and learning more about her ancestry.
The last time she went on such a hunt, she found a cousin she never knew she had, and she has since developed a great relationship with her. When Trina mentions she also used the same online ancestry site to do a project for school, they'll discover they were both told they had a relative in Port Charles. This is going to pique Stella's interest, especially as Portia seems unnerved by it.
GH Spoilers Hint Stella Digs In
Stella won't rest until she gets to the bottom of this. The more she thinks about the possibility of finding a relative in Port Charles she didn't already know about, the clearer this picture will become for her. This is likely when she will recall that Curtis and Portia had an affair many years ago when she was still married to Marcus.
Will that revelation lead to Stella wondering if Trina could be the long-lost local relative she never knew she had? Her ancestry research will almost certainly lead her to the truth, which she might share with Jordan — who could only confirm it.
General Hospital Spoilers — The Wedding Day
Stella is going to be beside herself with grief and heartache. She doesn't want to be the bearer of bad news, and she isn't interested in breaking her nephew's heart, but how can she possibly let him marry a woman who has been lying to him all of these years?
Curtis would marry her thinking he is gaining a stepdaughter when he's really had a daughter for nearly two decades. Stella is also slated to officiate Curtis and Portia's wedding, but she won't even be able to stomach looking at the woman once she knows what she's done. This can't end well. Stay tuned for more GH news and spoilers to see how it turns out.