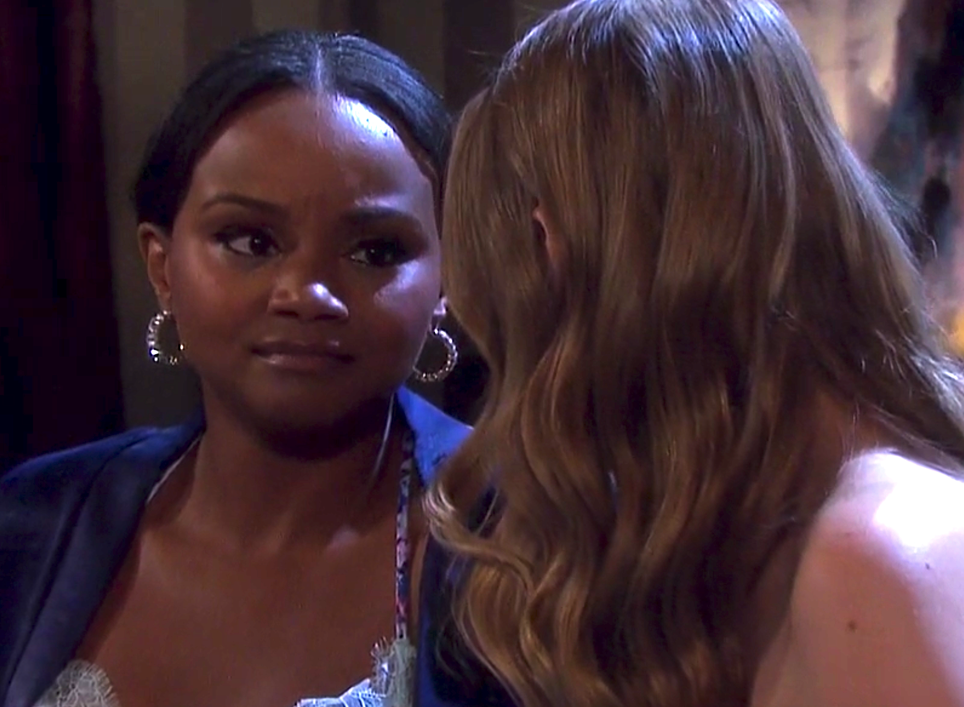 Days of Our Lives spoilers say that Chanel is left shocked over Allie's betrayal when she finds her with Alex. In fact, Allie and Alex panic when Chanel comes home earlier than expected and while they are getting busy underneath the sheets. Here's what you need to know.
Days of Our Lives Spoilers: Chanel Is Left Shocked Over Allie's Betrayal
According to the latest edition of Soap Opera Digest, actress Raven Bowens, who plays Chanel on the hit Peacock soap, says that she's surprised, but also not surprised by what she discovers. But before then, she tries to patch things up with Allie. She says, "Chanel's there to make up and to take accountability for all the stuff that's been happening with Johnny. She's honest about everything that has occurred and what her feelings are for Johnny, but she also reassures Allie about how much she loves her."
Days of Our Lives spoilers say that Allie declares her love for Chanel and the two women come together. But that's when Alex's phone rings. Raven adds, "Allie tries to cover and says it's her phone, but Chanel's like, 'Wait. Did you change your ringtone? I've never heard that sound before.' Chanel is smart. So she grabs her own phone and calls Alex. His phone goes off, and Chanel is like, 'Alex, come out.'"
Alex emerges and tries to speak for Allie, but it might be a little too late for him. Before he knows it, Chanel kicks him out. But at the same time, she doesn't know what to think. Raven says, "She's been uncomfortable with how much time the two of them have been spending together and how Allie has been confiding in Alex instead of her. So she's battling that as well as her own insecurities, but ultimately can't deny what's right in front of her face."
Days of Our Lives Spoilers: What's Next For Chanel?
Of course, Days of Our Lives fans will have to tune in each and every day to find out what will happen next. In the meantime, let us know what you think by leaving us a line with your thoughts in our comments section below. Days of Our Lives airs weekdays on the Peacock network. Check your local listings for times.
Be sure to catch up with everything on DOOL right now. Come back here often for Days of Our Lives spoilers, news and updates.