The Bold And The Beautiful Spoilers UPDATE Wednesday, January 25: Steffy And Eric Disagree With Hope, Deacon Continues To Question Sheila
The Bold And The Beautiful spoilers for Wednesday, January 25, indicate that Steffy Forrester (Jacqueline MacInnes Wood) and Eric Forrester (John McCook) will reject Hope Spencer's (Annika Noelle) plans for Hope For The Future. Deacon Sharpe (Sean Kanan) continues to push Sheila Carter (Kimberlin Brown) for answers.
Hope Spencer's New Idea Is Shot Down
The Bold and The Beautiful spoilers reveal Steffy and Eric balk at Hope's Hope for the Future proposal. Hope is very concerned about the new review that has torn her designs to shreds. Hope was worried that the line would bomb after Thomas Forrester (Matthew Atkinson) was fired. However, at the time, Hope was just as mad at Thomas as anyone else.
Hope may launch an idea that isn't very popular at all. Critics are unhappy with the design created by Zende Forrester (Delon De Metz) and Eric. Hope knows Steffy and Eric don't want Thomas  back in the company. However, Hope feels that Thomas understands her much more than anyone else. Does Hope need Thomas around to keep the line a success?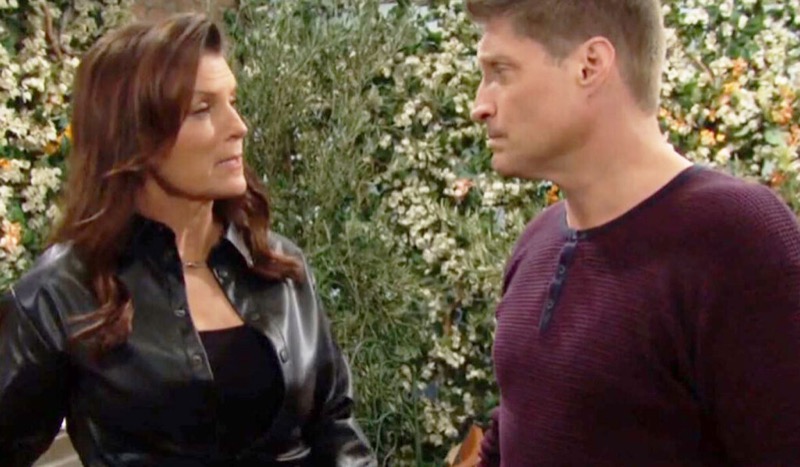 B&B Spoilers: Deacon Sharpe Wants Answers
Deacon presses Sheila for the truth about her motives regarding Dollar Bill Spencer (Don Diamont). Deacon knows Sheila very well. Sheila doesn't do anything without a purpose, and aligning herself with Bill has him questioning her. Sheila says she and Bill are in a relationship, but Deacon doesn't buy it. Deacon knows how these two feel about each other. What is really going on with this pairing?
Deacon still cares about Sheila, and their visit proves that she still has feelings for him. This makes Deacon wonder exactly what Sheila has up her sleeve. Sheila has already used Bill to get out of jail. What more does she need him for in her plan? Does Sheila wants Bill's money, or does she genuinely care about him? Did Sheila brainwash Bill or something equally dire?
The Bold And The Beautiful: Bill Spencer Has Everyone questioning His Sanity
Everyone who knows Bill is worried about his mental and physical health. Bill has changed so completely that no one knows what to believe about this setup. Why would Bill suddenly decide he wants to be in a relationship with Sheila, the one person who wreaked havoc before in not only Genoa City but in Los Angeles as well?
Bill has alienated everyone who loves him for this one woman. Is Sheila planning to take Bill for all of his money? Does Bill truly believe that Sheila is the woman he deserves? Bill and Sheila are a bizarre pairing, and neither of them truly seems to be in love. Fans want to know "the rest of the story."
Be sure to catch up on everything happening with B&B right now. Come back here often for The Bold And The Beautiful spoilers, news, and updates.