British Royal News: Prince William And Kate Middleton Slammed For Making Prince George Wear A Suit At Wimbledon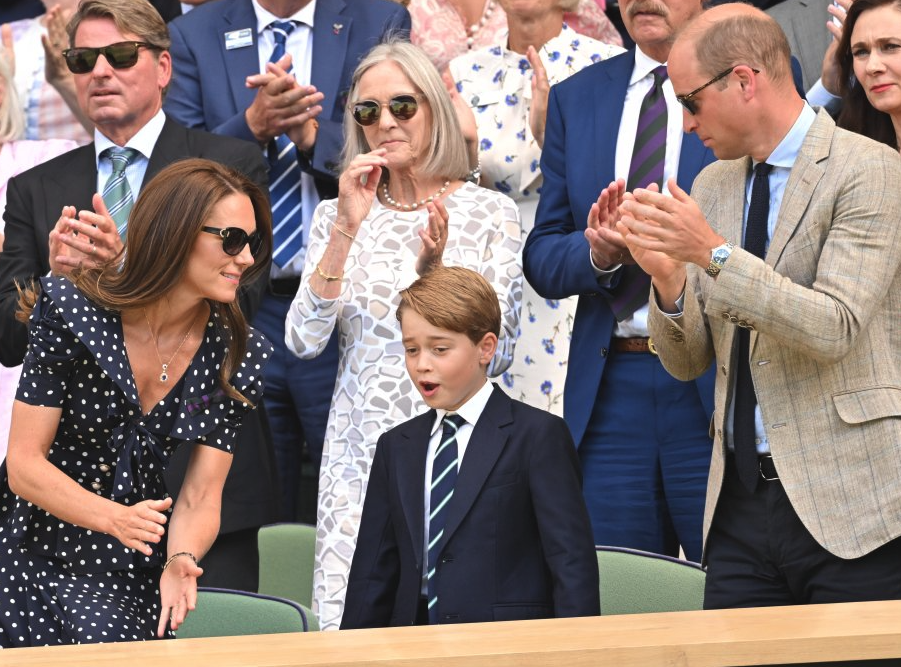 British Royal News has a lot of fans asking this same question: can't he just wear a shirt and jeans? Both Prince William and Kate Middleton are being slammed by critics for making Prince George wear a suit during the Wimbledon finals this past week. Here's what you need to know.
British Royal News: Prince William And Kate Middleton Slammed For Making Prince George Wear A Suit At Wimbledon
The Daily Beast writer Tom Sykes, who oftentimes seems to be a Cambridge fan, was one of the first to point out that Prince George's parents are making him wear clothes more suitable for adults and perhaps even making him sit through long tennis matches that are also more suitable for their age range than their son's. 
If that weren't enough, Sykes also pointed out that Prince Harry and Meghan Markle would never make their own son Archie, wear a suit for such a royal public appearance. He wrote, "The contrast with Harry and Meghan could not be more pronounced. Last week, for example, pictures emerged of the couple at a Fourth of July parade where a snatched photograph of Archie showed the toddler wearing light, baggy jeans, a long cotton shirt, and a baseball hat to keep the sun off."
British Royal News: Did William And Kate Go Too Far?
Many critics seem to agree. Some have taken to their social media accounts to weigh in on the matter with comments such as, "We can debate dress codes and the like all day long, but the bottom line is that this is an almost-9-year-old who was hot and unhappy and stuffed into a formal suit to sit out in the sun for hours. he did not have to be there, but his attendance and misery was required for his parents PR," along with, "There was no need to bring George to the final. It's not like it was a celebration of the queen like the jubilee where the whole family was expected to attend. Wimbledon is a tennis tournament that happens every year and sitting in the royal box is just a sign of wealth."
Another critic wrote, "Reminds me of how Kate snapped at Meghan during the children's fittings for Meghan's wedding. Meghan had the audacity to ask if the kids wouldn't be too hot in tights."
In the meantime, let us know what you think with your thoughts in our comments section again. Be sure to catch up with everything on the British Royal Family right now. Come back here often for the British Royal Family news and updates.