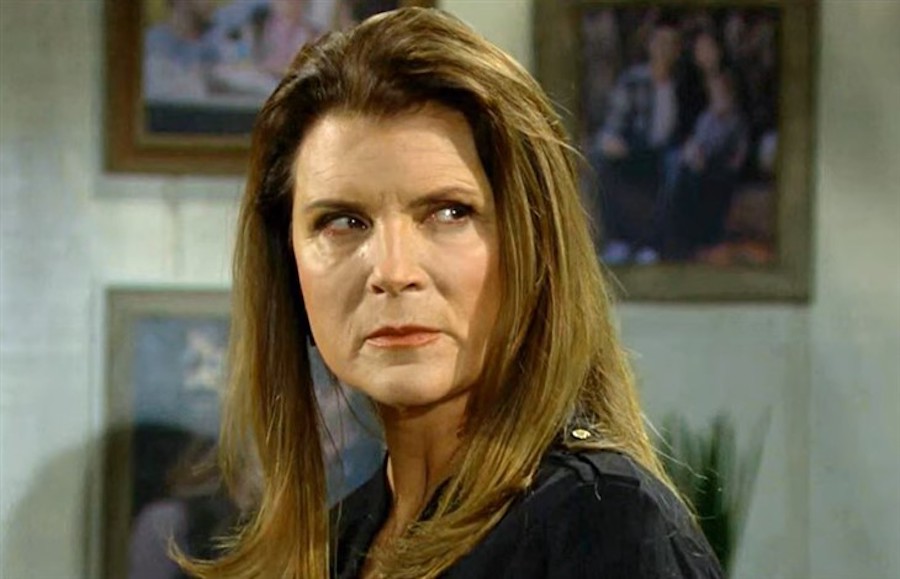 The Bold and the Beautiful spoilers say that while she must have thought that she could do something so evil like shoot two people, kill one, and ultimately try to get away with it all, she might want to think again. After Steffy Forrester gets her memory back and both Ridge Forrester and Taylor Hayes report her to the police, Sheila Carter is handcuffed and sent to the slammer. Keep reading below for all of the spoilers you need to know.
The Bold and the Beautiful Spoilers: Sheila Ends Up Behind Bars
According to the latest edition of Soap Opera Digest, it's a confusing time for Sheila as even though she shot her own son Finn and almost killed Steffy, she thinks that she's turned a new life in her life. Unfortunately, this all comes a little too late for her.
Kimberlin Brown, who plays Sheila on the hit CBS soap, puts it this way, "It's a sad moment for Sheila because she really felt as though there was a connection with Taylor, and she was going to find a way to be better, even after this tragedy. It's very hurtful, and to be set up in such a way where she thought she was coming to see her grandson and be a part of the family and then have it yanked out from under her, it's devastating for Sheila."
The Bold and the Beautiful spoilers say that even though the Forresters manage to get the truth out of her, Sheila still refuses to go down for her crimes. Kimberlin continues, "Once they expose her in front of Deputy Chief Baker, she vows vengeance."
The Bold and the Beautiful Spoilers: What's Next For Sheila?
Kimberlin further explains, "You should never betray Sheila. We know her history, and even though she is arrested, that doesn't mean it's going to stop her. In the past, she thought she had paid for her crimes but this was a crime she never expected to happen. All she wanted was the opportunity to love her son and her grandson, and the Forrester family stood in the way of that, so Sheila is going to do the only thing she knows how to do, and that is fight."
With that said, The Bold and the Beautiful fans will have to tune in to find out what will happen next! In the meantime, let us know what you think by leaving us a line with your thoughts in our comments section below. The Bold and the Beautiful airs weekdays on the CBS network. Check your local listings for times.
Be sure to catch up with everything on B&B right now. Come back here often for The Bold and the Beautiful spoilers, news and updates.